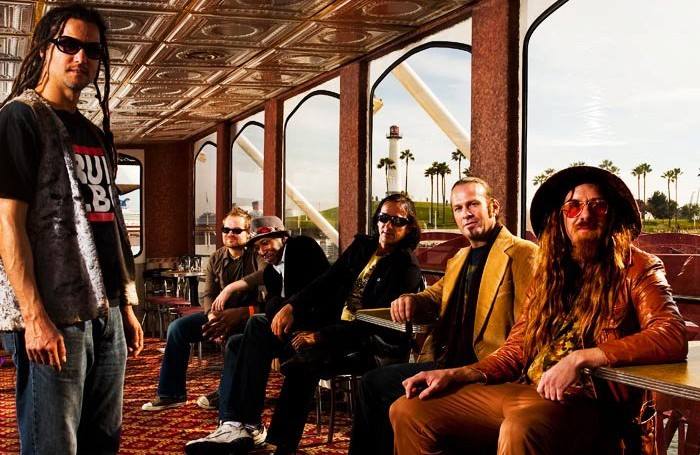 Born in a garage in Long Beach, California, Delta Nove has put in some serious work since their first independent release in 1998, leaving a trail of deep funk, thunderous Brazilian drums, greasy horns, and psychedelic exploration wherever they go.
After over well over 1000 shows and years of national tours, 8 independent releases, and years of musical evolution, the band has truly developed into a singular powerhouse of sound and rhythm.
Delta Nove fans often call the sound of the band 'world funk,' a mixture of a psychedelic funk rock concert, Brazilian Carnaval, and Mardi Gras. Or, as one fan said, 'it's like Funkadelic got lost in the Amazon jungle.'  Funk, rock, samba, afrobeat, reggae, jazz, electronic escapades; these are all ingredients in the D No sound.  Delta Nove's most recent full release, Imaginary Conversations, is a reflection of that mash up of sounds. On this album, for the first time, the band enlisted outside help from legendary producers, including Andy Johns (Led Zeppelin, Rolling Stones, Eric Clapton) and  Bruce Witkin (Adam Ant, Warren Zevon). Also, special guest George Clinton (of Parliament Funkadelic fame) joins the band on the track titled 'Boom Bop.'
The live show is where the band shines, connecting with their energy to the audience, never failing to whip them into a full-on dance party.  Each show features a unique set drawn from a huge catalog of original material and unique covers, sprinkled with lots of improvisation and on the spot creativity.  Delta Nove has drank deep from the funk fountain of Parliament Funkadelic, afrobeat king Fela Kuti, and Brazilian legends like Jorge Ben and Tim Maia. Woven together with deep pocket drums, super funky guitar, chest thumping bass, powerful horns, cosmic keyboards, thick vocals, and always a massive amount of percussion; This is the D No sound.
The band has played throughout the country on many years of self-produced tours.  Delta Nove has had the pleasure to share the stage with Dr. John, the String Cheese Incident, Roy Hargrove, Kid Creole and the Coconuts, Dennis Coffey, members of Parliament Funkadelic, Poncho Sanchez, Burning Spear, Olodum, Gato Barbieri, Merle Saunders, King Sunny Ade, Ozomatli, Michael Franti, WAR and Lowrider Band.  Members of the band have played with everyone from George Clinton and P Funk to Beck, the Wu Tang Clan, Belle and Sebastian, Van Halen, Mandrill, and many more.
Delta Nove continues to make their amazing music year after year, and have done their part to help define the sound of Southern Californian music and culture, as well as international cross-cultural pollination.  With a long and storied trip across many years through cities, states, festivals, benefits, and beyond, Delta Nove never ceases to fire up a crowd with their rare form of world funk.