WHERE DO I GET TICKETS?
Presale Passes are available on Eventbrite – https://JuneLakeJamFest2023.eventbrite.com
BEWARE! Please do not buy passes from people you don't know. There are scammers posting on Facebook and Instagram with bogus tickets to sale.
IF NOT SOLD OUT, there may be limited passes at the gate the day of the events
HOW MUCH ARE KIDS' PASSES?
All children under 12 years old are free with a paid adult. We have special kid activities and request that you indicate ages when registering for your children, so that we have resources prepared and ready for all the kids.
Students, aged 12 – 18 years, who attend Inyo and Mono Schools are also free with a valid school ID.
WHAT KIND OF ACTIVITIES ARE THERE FOR KIDS TO ENJOY?
We are grateful to be partnering with Playful Designs in providing Camp Playful at the venue.   There will also be other activities added (kids yoga etc) and we will announce those prior to the event.
WHAT ARE THE FESTIVAL HOURS?
Friday 9/8, gates open at 2PM, event starts at 3PM and ends at 10PM
Saturday 9/9, gates open at 9AM, music starts at 10AM and ends at 10PM
Sunday, 9/10, gates open at 8AM, music starts at 9AM and ends at 8PM
WHERE IS LOST AND FOUND AND FIRST AID?
Lost and Found is located at the main entrance. All personal items must be removed from the venue at the end of each day. There are also First Aid Kits located at the main entrance, merch booth and event bar. The Mono County Paramedics may be called In the event of any significant health issue.
IS THERE A PLACE FOR SOBER MEET UPS?
The Wharf Rat group will have a designated area to gather for those living a life of sobriety.  The location will be available on maps at the main gate.
PREPARING FOR HIGH ELEVATION

WHAT WEATHER SHOULD BE EXPECTED?
September in the Sierras brings an array of weather from sunny mid 70s °F temperatures, to rain, hail, thunderstorms, wind, and yes, on a rare occasion, snow. Be sure to pack warm layers, various jackets for wind, rain, and cool nights, sunscreen, comfortable shoes for all weather, and of course summer clothing for those hot, sunny days. The festival proceeds, rain or shine!
WHAT DO I NEED TO KNOW ABOUT HIGH ELEVATION LIVING?
At high altitude, you receive 30% more ultraviolet radiation than at sea level. Sunscreen and sunglasses are essential. The weather in the mountains, no matter the time of year, can change quickly. Bring layers of protective clothing for all types of weather. Drink plenty of water especially on hot days when you are outside and/or exercising to avoid dehydration. The effects of medications and alcohol at high altitude are magnified, so be sure to consult your physician on prescriptions.
CAN I GET WATER IN THE FESTIVAL?
There is a drinking faucet located near the left hand side of the stage, close to the playground equipment. The bar and many of the food vendors will be selling water. You may bring in a sealed water bottle with you into the venue. Also bring your empty refillable water bottle!
WHERE DO YOU RECOMMEND CAMPING?
There are USFS and privately owned campgrounds located in the Loop, many within walking distance to the JLJF venue. NOTE: USFS campgrounds are available to reserve 6 MONTHS prior to arrival date. We encourage you to reserve your site in March when they first go on sale.  Click here for more info lodging and camping options
WHERE MAY CAMPERS SHOWER?
There are public showers (fee) located at Pine Cliff Resort and Grant Lake Marina/RV Park
WHAT LODGING IS AVAILABLE?
There are hotels, motels, condos and cabins in the Loop, many within walking distance to the venue. If possible, please support our Jam Fest lodging sponsors: Rainbow Ridge Reservations, Four Seasons Cabins, Snowcreek Resort (Mammoth), and Hidden Meadow Cabin. Click here for more info lodging and camping options
WHERE DO I PARK?
Parking is at a premium in the June Lake Village area around Gull Lake Park where the Jam Fest is held. It is best to leave your vehicle parked at your campsite and lodging and walk if possible.  There are a limited number of ADA parking spots near the main gate.
We will have a designated parking lot available nearby. You may drop off belonging at the entrance and then park if preferred.  Our map will be updated a month before the event.
PLEASE pay attention to street signage as there are narrow streets in the Village that do not allow parking along the street.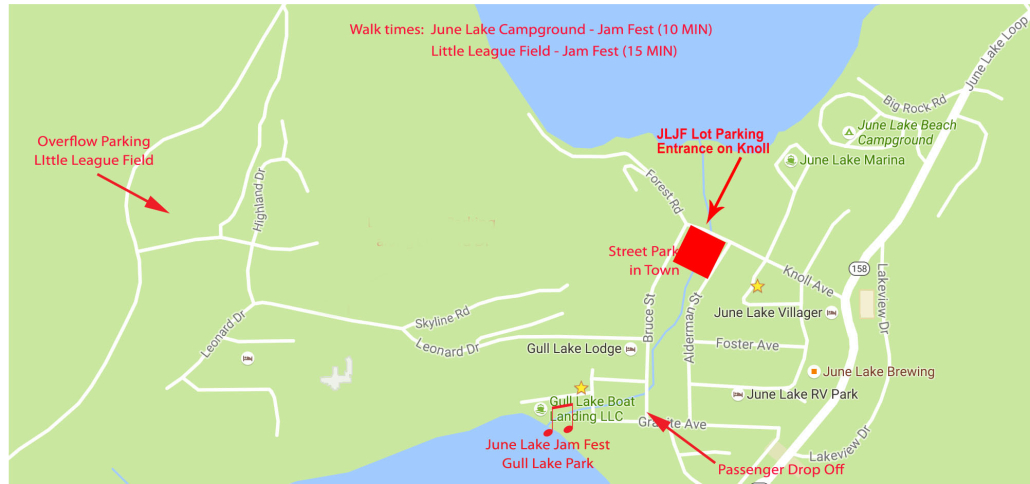 IS THERE CRAFT AND FOOD VENDING ON SITE?
We will have both craft and food vendors in our Vendor Village area. We will be sharing information about our vendors on our social media and website prior to the event.  Please support our vendors, if they do well, they will return.
There are also food and shopping opportunities available in town. We allow in and out privileges during the festival, but your bags and backpacks will be checked each time you reenter the venue.
The Jam Fest sells tasty beverages at our event bar. We ask that you drink responsibly so that you can enjoy the entire event safely.  Drinking too much at altitude and in the sun, can be hazardous.  We suggest drinking a bottle of water between each and every alcoholic beverage.  STAY HYDRATED!